Hi Kim,
I need to charge for additional CBM in this case - from 2.4CBM/20 cartons quoted for to 3.36 CBM/21 cartons supplier sent to AEB warehouse. Please check with supplier & pay for this bill if there is no dispute.
Total: USD360 = (900/2.4)*(3.36-2.4)
Thank you for business.
Alan FAN
PS: Do remind supplier to pay origin charges to AEB on this end.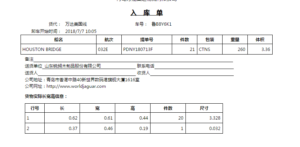 Please go to order #AEB-7642 for measurement by CFS.